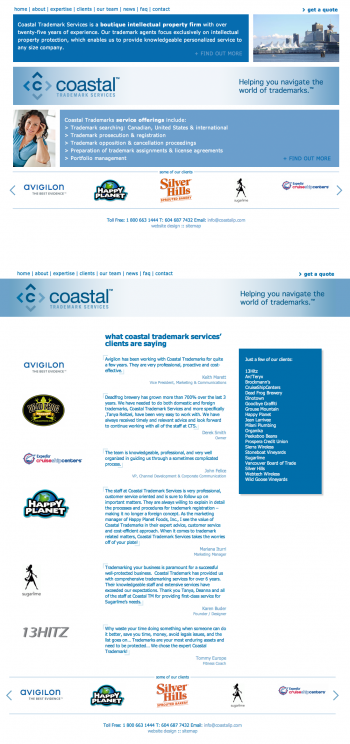 Just launched: Van­couver trade­mark agents CoastalIP.com.  This exciting project focused on a web­site design that was search engine (SEO) friendly and user main­tained with a con­tent man­age­ment system (CMS).  The project lead was Cre­ating Excel­lence who gets credit for the layout and content.
Blender took their design and cre­ated Word­Press based web­site, our chosen CMS plat­form.  Careful atten­tion was taken to make the tem­plate adapt­able so the web­site can grow.  New pages can easily be added, posts to the blog, client logos to the site footer.
The site is also designed for a tar­geted SEO cam­paign.  Spe­cific key phrases were researched and the site ensures these fea­ture promi­nently for google and other search engines to index.
CoastalIP.com is the lastest in a series of web­sites Blender has launched with Cre­ating Excel­lence, and we have another in pro­duc­tion.  Looking for­ward to many more!
Tech­nolo­gies used: Word­Press CMS, jQuery Javascript Library, HTML 5
Visit Trade­mark Agents  - coastalip.com
Site credits:
Layout,  Design, and Mar­keting - creatingexcellence.ca
Build and Pro­gram­ming — Blender
Pho­tog­raphy — photosbykathryn.com