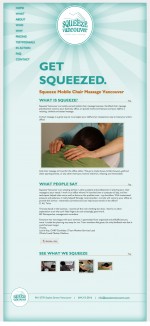 New client Squeeze Vancouver had a website already, but it's search engine traffic was very disappointing.  Blender was hired to optimize the website to better compete with other local chair massage businesses.  We quickly identified some structural problems with the website, worked with the client to create some new content, and developed an SEO plan.
Mobile Chair Massage Squeeze Vancouver
UPDATE: Blender is happy to report that Squeeze has received it's first clients from organic search!  After a little over a month clicks through Google are up 87%. Most importantly we are seeing our targeted search phrases starting to appear on the first page in some searches.
July 23, 2012
Blender is happy to welcome new client Genssante. Blender will be doing their ongoing maintenance and updates.  First task – update the website using php scripting to make maintaining it easier and cheaper.
Thanks to client Mark Rosengarten (markrosengartenmd.ca) for the referral.
July 8, 2012