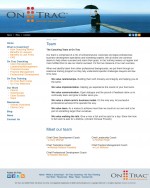 Longtime client Gary Mitchell first hired Blender in 2006.  He recently wanted to update and re-brand the website for his core business GEM Communications.  His existing website was dated,  performed poorly from a Search Engine Optimization (SEO) standpoint, and used technologies such as Flash which are no longer suitable for general website design. Gary wanted a modern website that would give him all the advantages the internet offers.
Our redesign stayed true to the appearance of the old, but completely replaced the foundation and back end.  Blender recommended using the WordPress Content Management System (CMS) so that Gary could maintain the content of On Trac on his own ensuring his website was always up to date.  WordPress offers well structured web pages where search engines are concerned and scales well to any size website.
Another focus was an expansion into social media including LinkedIn, Facebook, and Twitter.  On Trac would have a presence on all three with the website acting as a hub from which content would be shared out.
The success of the re-design will be tracked using integrated Google Analytics for traffic monitoring.  Visitors can give feedback through website feedback forms, a blog post comment system, and  through social media integration.
Technologies: WordPress, PHP, CSS, Javascript, jQuery
Visit On Trac Coaching
July 25, 2011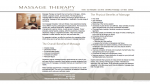 Blender recently launched Massage Therapy on Dunbar's first website.  This brand new business just opened and need a website to help introduce themselves to the Dunbar neighbourhood.  Owner Vicki Bell was referred to Blender by long time client Shelley Hilliard of Hilliard Design – thanks Shelley!
Vicki was on a tight budget so we focused on simple straight forward functionality.  Search Engine Optimization (SEO) was a priority, as was cross-platform compatibility.  Featured technology was jQuery used in the transitions during page loads.
The Massage Therapy on Dunbar website is featured in my portfolio, and you can visit it online at massagetherapyondunbar.com.
June 7, 2011