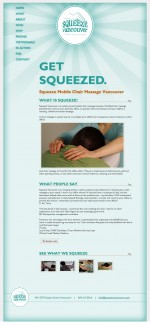 New client Squeeze Van­cou­ver had a web­site already, but it's search engine traf­fic was very dis­ap­point­ing. Blender was hired to opti­mize the web­site to bet­ter com­pete with other local chair mas­sage busi­nesses. We quickly iden­ti­fied some struc­tural prob­lems with the web­site, worked with the client to cre­ate some new con­tent, and devel­oped an SEO plan.
Mobile Chair Mas­sage Squeeze Vancouver
UPDATE: Blender is happy to report that Squeeze has received it's first clients from organic search! After a lit­tle over a month clicks through Google are up 87%. Most impor­tantly we are see­ing our tar­geted search phrases start­ing to appear on the first page in some searches.
July 23, 2012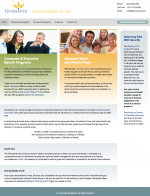 Blender is happy to wel­come new client Genssante. Blender will be doing their ongo­ing main­te­nance and updates. First task — update the web­site using php script­ing to make main­tain­ing it eas­ier and cheaper.
Thanks to client Mark Rosen­garten (markrosengartenmd.ca) for the referral.
July 8, 2012