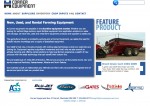 Another assign­ment for Cre­at­ing Excel­lence, small busi­ness mar­ket­ing spe­cial­ist. Cor­ner Equip­ment needed a web­site that vis­i­tors could nav­i­gate quickly, that was easy to main­tain, and that search engines would pick up and list. Because of the clien­t's expe­ri­ence with Word­Press there was no ques­tion it would be our plat­form of choice. Word­press is the most straight­for­ward CMS (Con­tent Man­age­ment Sys­tem) avail­able, and because it is enjoy­ing recent pop­u­lar­ity there is no short­age of exten­sions and support.
Blender cre­ated a cus­tom theme based on Cre­at­ing Excel­lence's design. Care­ful atten­tion was taken to ensure the web­site gen­er­ated would be friendly to search engines. An SEO strat­egy was part of the early design process.
One inter­est­ing fea­ture of the Cor­ner Equip­ment web­site is the pro­cess­ing of images attached to items in the inven­tory. Pic­tures are uploaded by the site owner and auto­mat­i­cally resized for dif­fer­ent pur­poses, lit­tle or no out­side pre­pro­cess­ing required.
Visit Cor­ner Equipment
June 20, 2012