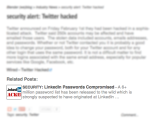 I was having trouble finding the right WordPress plugin for a clients website … so I programmed it!  You can see the results of the Related Links Blender plugin at the bottom of this post.  The plugin is a simple but effective way to keep visitors browsing your blog.  Similar plugins existed, but none did exactly what I wanted.  Programming the plugin was an interesting exercise – always be learning!
Plugin features:
Choose which posts to link
Just add the post ID of the target you wish to link
Links include thumb, title, and brief introductory text – automatically!
Links can be structured and styled to suite your website
February 16, 2013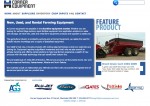 Another assignment for Creating Excellence, small business marketing specialist.  Corner Equipment needed a website that visitors could navigate quickly, that was easy to maintain, and that search engines would pick up and list.  Because of the client's experience with WordPress there was no question it would be our platform of choice.  Wordpress is the most straightforward CMS (Content Management System) available, and because it is enjoying recent popularity there is no shortage of extensions  and support.
Blender created a custom theme based on Creating Excellence's design.  Careful attention was taken to ensure the website generated would be friendly to search engines.  An SEO strategy was part of the early design process.
One interesting feature of the Corner Equipment website is the processing of images attached to items in the inventory.  Pictures are uploaded by the site owner and automatically resized for different purposes, little or no outside preprocessing required.
Visit Corner Equipment
June 20, 2012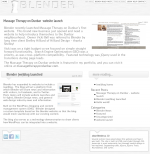 Blender has expanded its website to include a (we)blog.  The blog will act a platform from which Blender will share news and information with visitors, to Facebook, and to Twitter.  Posts topics will include website launches and hi-lights, Blender Design news, and general web design industry news and information.
Built on the WordPress blogging and content management system (CMS),  Blender designed a custom template based on the blender website so that the blog would mesh seamlessly with our existing content.
The blog also serves as a technology demonstration to show clients how WordPress can be integrated into a website.
June 6, 2011